National Donor Sabbath
November 7, 2023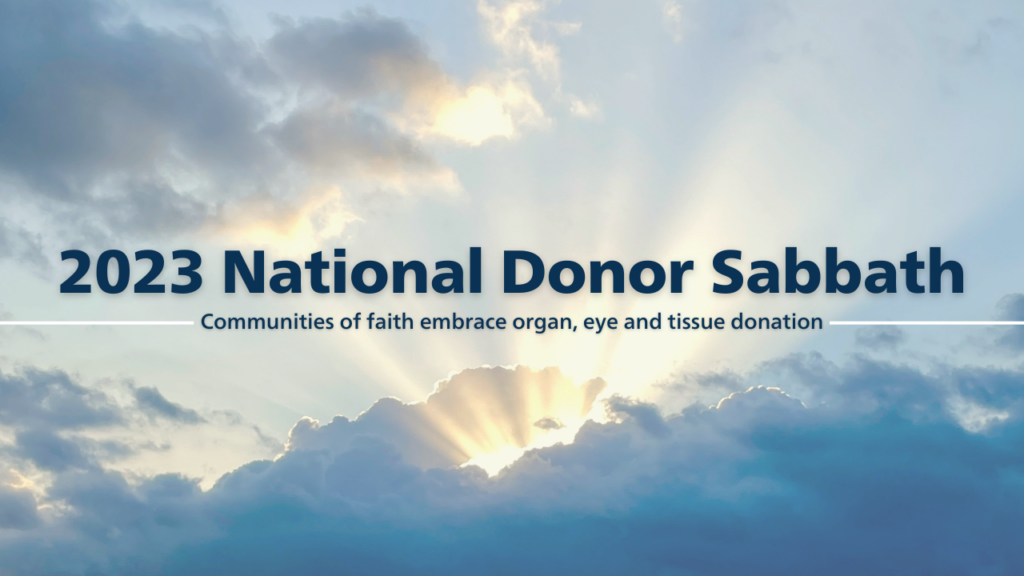 Donor Sabbath is an annual nationwide observance, celebrated on November 10-12 this year, which aims at increasing awareness about the lifesaving gift of organ donation among faith-based communities. The Donor Sabbath is a three-day celebration involving worship, prayer and the participation of religious leaders in various initiatives. It allows faith leaders, donor families, transplant recipients and other donation professionals to participate in services and programs to educate the public about the need for the lifesaving and healing gifts of organ donation.
People look to their faith leaders for guidance when making end-of-life decisions like organ and tissue donation. Most faith communities are supportive of organ and tissue donation and many view donation as an act of compassion and generosity.
Ways to Celebrate National Donor Sabbath
Faith communities and individuals wishing to plan National Donor Sabbath events may contact us at tennesseedonor.org for additional information and support. Here are some simple ways to celebrate National Donor Sabbath:
Inform your religious leader that National Donor Sabbath takes place November 10-12, 2023. Request that they devote a sermon to organ donation and how religion encourages all of us to save lives.
Collaborate with your Faith-Based leader to identify members of your congregation who have been personally impacted by donation or transplantation. You may also contact us at Tennessee Donor Services to get more information about who you can reach out to.
Include information about organ, eye and tissue donation in your local bulletin, newsletter, social media channels or other communications connected to your place of worship.
Click on the link below to edit your own Donor Sabbath Template and for Donor Sabbath Insert instructions.
Donor Sabbath Insert Instructions
Aleya's Story
Aleya Nicole Lin Brooks passed away unexpectedly on March 3, 2023. Aleya's family made the selfless choice to allow her to be an organ donor, and in so doing, saved the lives of three people who were awaiting new organs.

"Aleya's short life could best be described in one word…"Love!". Aleya loved everyone. She loved her family. She loved her friends. She loved her cheer team and classmates. And, she loved Jesus with all her heart. In a final act of love, to people she never even met, she gave the gift of life through organ donation. Love to Aleya was shown in action. She loved deeply and we know her legacy of love will live on through the lives of others she loved so well."
In her short 15 years, Aleya lived life to the fullest. She was a straight A honor student through all years of school, two-time national champion cheerleader, gifted artist, beautiful singer, inspirational writer and aspired to be a neuropsychologist to one day cure diseases of the brain. Everything she did was done with excellence. But all her accomplishments paled in comparison to the bright light she was to the world.
In her last assignment at school, Aleya wrote "Today, I believe resilience in adversity produces grit. Even in the darkest hour, I take deep breaths reminding myself to inhale faith and exhale fear. Whenever I pause to visualize the next moment, I optimistically center my thoughts on being confident. Under any circumstances, I praise God for sustaining me through my numerous hardships. Overall, I've learned to thrive through difficulty. I will use this lesson to encourage others who encounter challenging obstacles because I am an overcomer. I aspire to display grittiness for he next generation of cheerleaders…and be an inspiration to everyone, everywhere."
Aleya was a beautifully brilliant light to the world. Although her life was short, her impact was great and her story of grit and grace wrapped in a genuine love for everyone will live on.